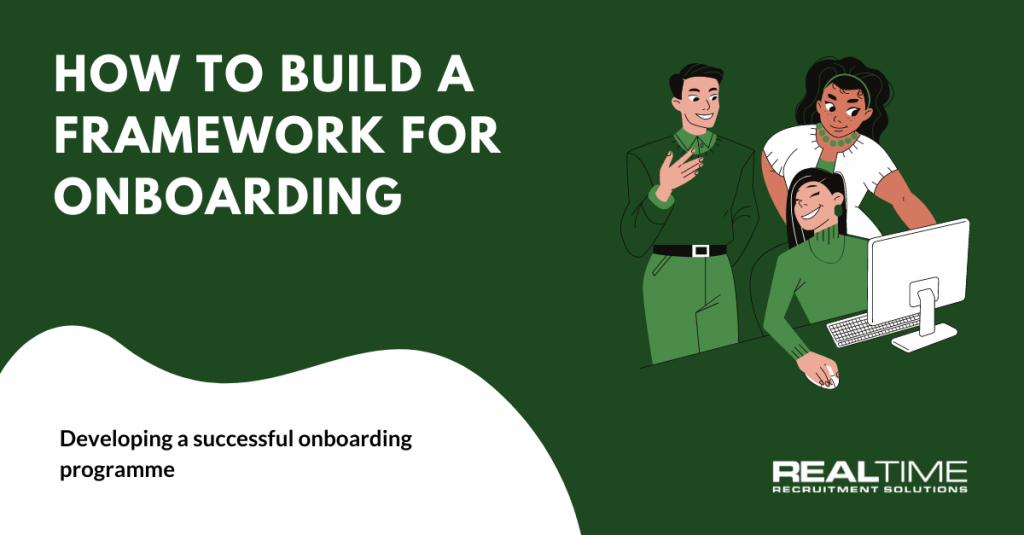 How to Build a Framework for Onboarding
When you have gone through the process of attracting, interviewing and selecting the very best talent for your business, it is important to follow this up with a well-thought-out onboarding process to give them the best possible experience and ensure that they hit the ground running.
A successful onboarding will cover both company culture and relationship building, as well as providing the new employee with the knowledge and tools that they will need to carry out their role effectively.
Whilst the onboarding process can – and often does – last up to a year, the first few months are the crucial time which can make or break the employee's view of the company.
It is always important to plan your onboarding process well to ensure that the employee will have all of the information they need. Here's how to build your onboarding framework.
Decide Your Key Elements
Although onboarding for employees joining different teams may well not be the same, there are some basics which should be agreed upon regardless of the new employee's role or seniority level. Agree these key questions across your business:
How long should onboarding last?
What do new employees need to know about the business – including the culture and work environment?
What impression should employees leave the first day with?
What kind of goals will you set for your new starters?
How will you measure the success of the onboarding process?
What do you want the employee to achieve?
Of course, many new employees won't come in and start achieving key work goals as soon as they start (however much they may want to!), but it is a good idea to think about what your new employee should accomplish by the end of the first week, month, three months of their employment. These can be as simple as, for example:
Understanding of the workplace culture
Meet all key team members
Able to carry out basic job function and access all systems
Build Your Framework
Take your goals and consider what needs to be done to achieve each. For example:
Understanding workplace culture
Meeting with company directors to talk about the company's history, mission and ethos.
Meeting with HR to talk through key benefits and expectations.
Meeting with recent hires to discuss their experiences in the first few months.
When you have listed everything, you can decide which items need to happen first, and plan them into your new hire's diary before they start. A well-structured, organised onboarding process will leave them with the best possible impression.
If your company doesn't have standardised training for new starters, it is even more important to spend time beforehand ascertaining exactly what your new employee will need to know before they can start doing their job.
The Result
Your onboarding framework will make sure that your new employees are engaged, knowledgeable and secure in their position at the end of the process. The better the impression at the beginning of employment, the higher the likelihood that you will retain those employees – so it is well worth putting in time to onboard properly.
Your employees will also have better relationships with others in the business, making it easier to collaborate and work across teams. Plus – you'll be able to ensure that your company values remain strong throughout the business.