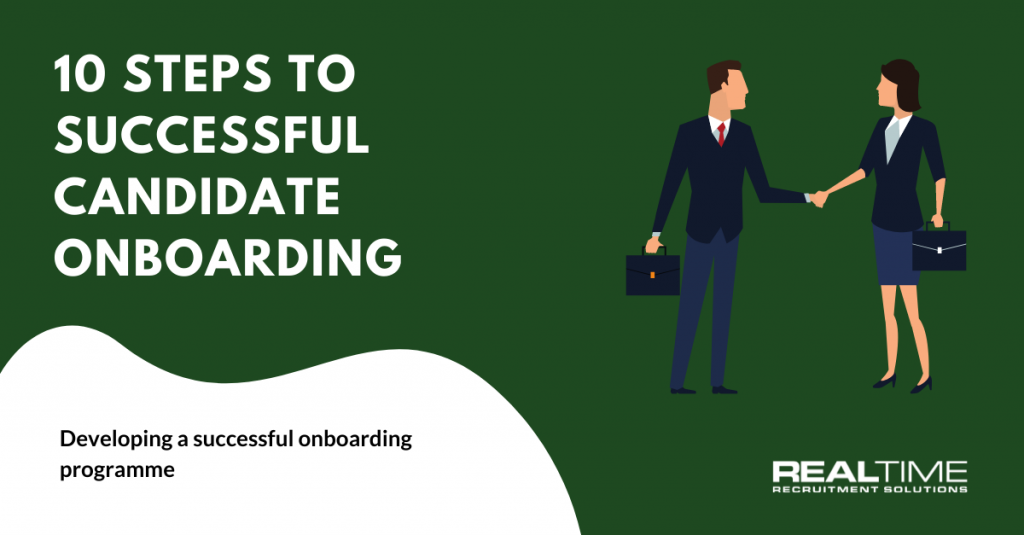 10 Steps to Successful Candidate Onboarding
Do you know that research shows companies with a formal onboarding programme retain more than 90% of new employees, compared to just 30% at companies without a formal onboarding programme?
That's staggering but it also suggests that having a well-designed onboarding programme makes good business sense.
Here's why:
Hiring new staff is expensive. It has been estimated cost, on average, around US$4,129 per hire. You don't want your good hires to leave shortly after they were hired as this wastes precious time and money.
Helping your new hires navigate transition, addressing their new job anxieties and introducing them to the company's culture can help them get productive quicker.
With a formal onboarding structure, 62% of employees hired in the last 12 months met first performance milestones on time, compared to 17% at organisations without a formal onboarding structure.
Helping the new hire build positive working relationships with their colleagues will help him or her adjust better, encouraging collaboration in the workplace.
With the competition for talent on the rise, it's no surprise that your good hires will get opportunities knocking on their doors all the time. If you don't keep them engaged, especially in their first year, they will leave.
90% of employees decide whether or not to stay with a company within the first year.
In other words, having a good onboarding programme will improve your retention rate and productivity, boost your competitive edge and increase profits. It's no wonder data from BCG Consulting reveals that onboarding ranks No. 2 out of 22 HR practices that have the highest business impact.
Here are our top 10 tips:
1. Explore and Sell
Take an interest in the candidate. Ask them what they want from the role. Use this information to help you sell your opportunity to them.
2. WOW Factor
Make the candidate feel wanted. Impress them. Show them around the workplace and facilities. Introduce them to their potential new colleagues.
3. Time Kills All Deals
Move quickly with any offer. Send out contracts and required paperwork as soon as possible. Candidates in short supply will have more than your offer to consider.
4. Communication
Be in close communication with your new hire. Check in regularly and invite them for lunch. Invite some of the team members to start building relationships with new hire.
5. Plan
Work with the new employee to create a plan. Ask for preferences on hardware and software. Discuss projects and future requirements to maintain their interest.
6. Timetable
Create a timetable to give to your new employee. This gives them an idea of what to expect and can help ease nerves, making their first few weeks more enjoyable.
7. First Impressions Count
Be ready for your employee's first day. Ensure that their workspace and equipment are set up. Don't leave them to stand around feeling awkward.
Google research shows that reminding the hiring manager to set up the first day gets new hires up to speed 25% faster.
8. Boarding
Hold an initial 30-60 minute meeting to update on any changes. Discuss timetable and immediate requirements. Introduce to the new hire to colleagues and tour the workplace with them.
9. Use a Buddy System
Partner them up with a buddy to help them with any problems or questions they may have. Arrange for them to take the new employee for lunch.
10. Listen
Conduct regular reviews with the new staff members. Listen and take action. Don't just give them lip service.
As the competition for talent heats up, you can't afford to leave your onboarding process to chance. People are a company's most important asset and it pays to keep them motivated and engaged. Check out the other resources we have for tips to help you with that.